Accommodations
Sunpela Sima
Every room in the property has a stunning close-up ocean view, and an east exposure to appreciate morning sunrise from the balconies. This is a resort hotel with a spacious lobby and hallways in addition to rooms larger than 50 ㎡, but room rates are nevertheless relatively reasonable.
The hotel offers a range of rooms including Western-style rooms, Japanese-style rooms, fusion Japanese-Western rooms, and one disabled access room.
A free shuttle bus service is available from the Kintetsu Shima Isobe Station by reservation.
INFORMATION

Phone
+81 599 57 2130
Fax
+81 599 57 2131
Address
314 Matoya, Isobe-cho, Sima-City, Mie-Pref, 517-0204
Official website
http://www.oyadonet.com/sunperla/ 
Check-in
15:00 ~ 18:00
Check-out
~ 10:00
Room & Service
●Japanese style rooms with "Tatami"
●Outdoor bath "Roten" (for common use)
●Natural hotspring "Onsen" (for common use)
●Japanese style roomwear "Yukata" rental service
●Rooms with ocean view
Transportation
By Train:
Approx. 15 minute drive (10km) from Shima-Isobe Station (Kintetsu line)

By Car:
Take the Ise Expressway to the Isenishi Interchange (IC). The hotel is about 40 minutes (28km) along Ise Road from there

Pickup Service:
There is a shuttle bus from Shima-Isobe Station (Kintetsu line)
*requires prior reservation
Accessibility information
No stairs to reach the room
Yes
Room with wheelchair-accessible bathroom
Yes
Western style rooms (or rooms with bed)
Yes
Wheelchair-accessible bathroom
(for common use)
Yes
Private hotspring or Japanese style bath
No
Staffs speak foreign language
Not available
Website for foreign language
Not available
Accepts credit cards
Visa , JCB , Diners Club
Currency exchange
Not available
Parkings <Available>
Parkings
Available/Not available
Available( 36 cars)
Handycap parking space
Available( 1 cars)
| | |
| --- | --- |
| Parking space | Handycap parking space |
Rental & Service
Wheelchair rental
Available
Courtesy bus / car to train stations
Available
Internet access
Wifi
Available
Free Wifi / Charged
Available
Wifi in guest room
Not available
Ethernet cable in guest room
Not available
Internet lounge
Not available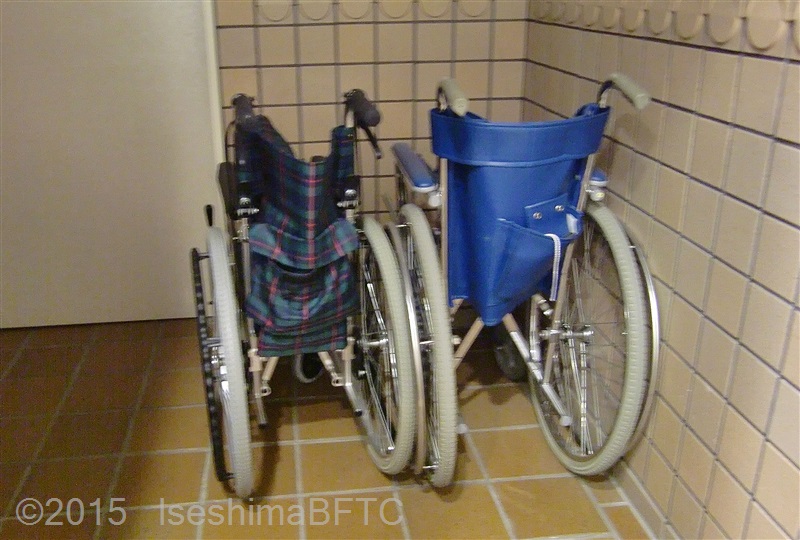 Wheelchair rental
Elevator <Available>
Elevator [1]
The door opening width
90cm
The internal elevator dimensions
Width:135 cm Depth:140 cm
Bath <Available>
Bath [1]
Classifications
Heated tap water
Shower chair
Not available
Wheelchair for bathing
Not available
Wheelchair -accessibility for the public bath
Accessible
Outdoor bath
Available
Wheelchair -accessibility for the outdoor bath
Accessible
Private bath <Not available>
Rooms
Rooms [1]
Location of the guest room
Rooms
Accessible room
Size of the room
 ( 74 ㎡)
Capacity of the room
3
Offers
No meals
Not available
Bed & breakfast
Available
Dinner, Bed & Breakfast
Available
Meals
Dinner
Restaurant
Breakfast
Buffet
Smoking polic

Non-smoking

Room entrance door
Opening width:80 cm
Remove your shoes at room entrance
No
Wheelchair-accessibility
Accessible 
Beds
Size of the bed 1
Width:120 cm Height:45 cm
Size of the bed 2
Width:120 cm Height:45 cm
Washroom
Wheelchair accessibility
Difficult
Bathroom
Bathroom door
Opening width:90 cm
The internal bathtub dimensions
Width:102 cm
Shower chair
Available
Wheelchair for bathing
Not available
Room lavatory
accessible with wheelchair
Wheelchair lavatory in the Hotel <Available>
Wheelchair lavatory [1]
Location of the lavatory
1 floor
Lavatory door
Opening width( 80 cm )
Dimensions of the lavatory
( 285 cm ) × ( 125 cm ) toward toilet
Grab bars
● Right side toward toilet:
Available(U-shape)(Adjustable)
● Left side toward toilet:
Available(L-shape)(Fixed)
Ostomate facility
Not available
Instruction booklet in foreign language
Not available
Meal <Available>
All guests
Menu with pictures
Available
Menu in foreign languages
Not available
Special meal
Not available
Vegetarian meal
Not available
Halal foods
Not available
Copyright 2013 ISESHIMA BARRIER FREE TOUR CENTER. All Rights Reserved.